One of the toughest problems we face every day is making the right choice. For a customer, analyzing multiple products, identifying discounts, and reading reviews is a challenging task. In the process of evaluating multiple products, brands, and offers, buyers often end up confused. Recommending the right products to the buyers at the right time is the key to improving conversions, increasing the order size, and ensuring customer loyalty.
Solution overview
SAP Marketing Cloud provides a smart online solution for customers. Product and offer recommendations suggest customers based on their interests, buying history, and click through interactions. SAP Marketing consumes all these data points from commerce cloud and applies machine learning algorithms to understand the user metrics and recommend the right products.
Download our Nexus for B2B offering to create 360-degree experience-driven user journeys using the power of the SAP CX Suite of cloud solutions.  ||  Our SAP Marketing Cloud specialists gives you powerful insights that let you optimize your marketing to drive growth and revenue.
Features
Integration with multiple SAP products

SAP Commerce Cloud
Hybris C4C 

Provided rest API/OData to integrate with any non-SAP system
An extensive set of ML algorithms which can be configured as per the business need
Each scenario can be built applying multiple algorithms
Activate and deactivate feasibility
Analyze the model with the preview option. You can analyze the recommendation by using consumer, context, and item parameters.
Potential benefits
Customer satisfaction
Increased cart value
Increase cart conversion rate and sales
Presenting customers content adjusted to their preferences
Understanding with an example
Seamless collaboration between SAP Marketing Cloud and Commerce Cloud has many benefits. These include:
Understanding customer behavior
Personalizing the storefront experience with relevant offers and products
Increasing the conversion from abandoned cart to shopping cart
To better understand this topic let's understand the key pieces of data exchanged from Commerce Cloud and Marketing Cloud.
Master data – Products & products hierarchies, customer & consent
Transactional data – Saved carts, abandoned cart, and reviews
To drive more sales, SAP Marketing Cloud creates product and offer recommendations by applying machine learning algorithms on top of master and transactional data. These recommendations are published on commerce cloud storefront page, which helps track the visibility and success of the recommendations and sends the impression and click-through data to the marketing cloud. These key figures are used by marketing experts to evaluate their effectiveness.
OOTB SAP Marketing provides three main algorithms:
Top-N Query: With this algorithm, you can recommend customers top viewed products, top sellers, and recently viewed products.
Association Analysis: used to discover hidden analysis in large datasets, this grouping is based on browser session.
Collaborative Filtering: It computes the similarities between consumers by considering their interaction.
Read our new article on how to build an intelligent enterprise using SAP cloud platform integration.  ||  Sign up today for the latest news about your Digital Transformation.
Building a recommendation model:
Building a model in 4 simple steps, below are key parameters that build a recommendation model:
Under 'Manage Recommendation' section select appropriate OOTB scenario and configure with the below parameters:
Below is a typical example of a top selling product recommendation model: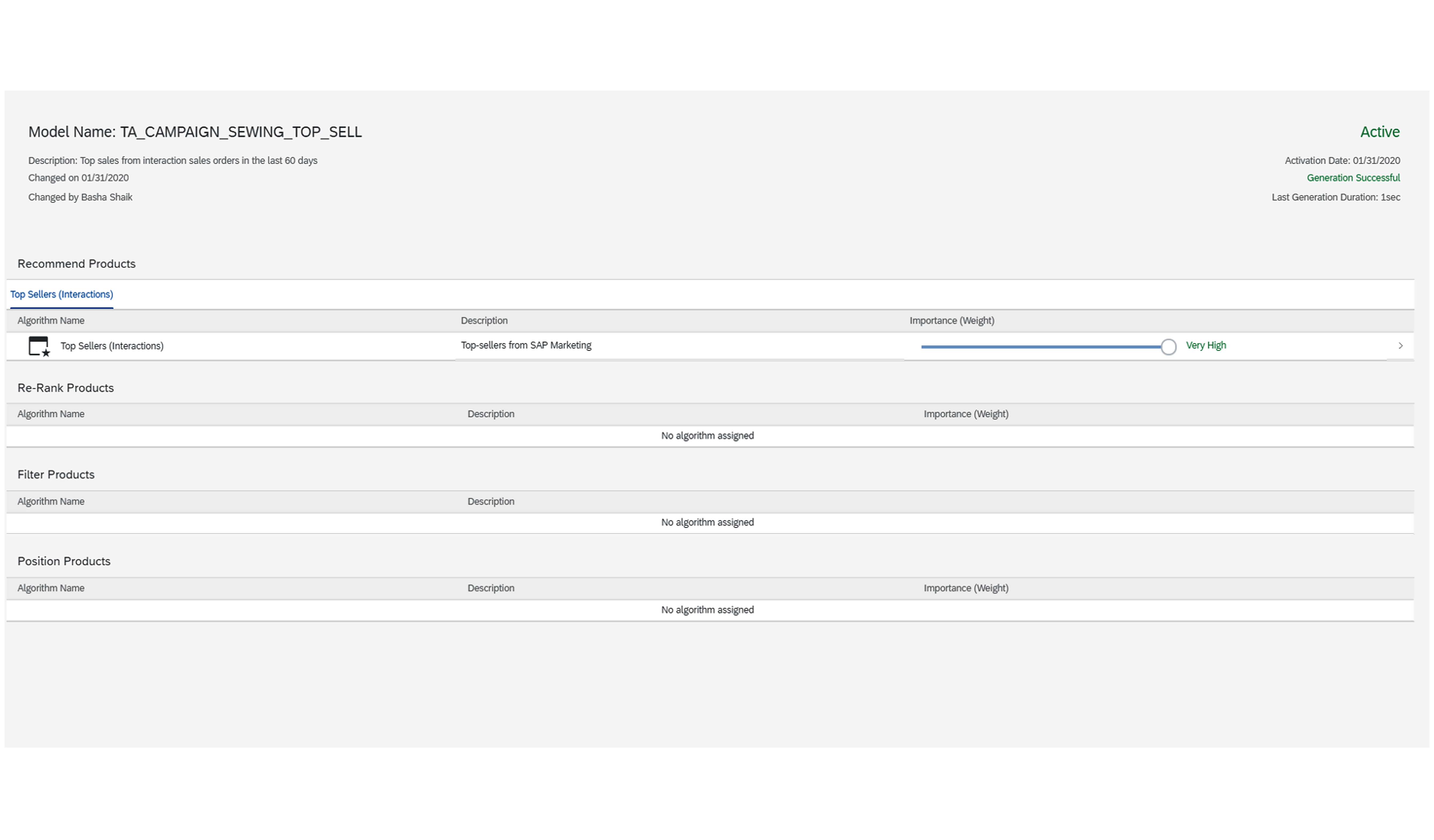 Results of top selling product recommendations:
Results of newly launched product recommendations:
Conclusion
Recommendations allow you to provide buying suggestions in real-time across multiple sales channels. This brings more sales by understanding user interactions.
About the Author
Sandeep Kumar Chekka is the Principal Engineer at TA Digital with 7+ years of core experience in designing, solutioning and developing complex eCommerce applications with personalized experience. He is certified professional in SAP Commerce Cloud, Marketing Cloud, Sales Cloud, SCPI and Salesforce B2C Commerce.
About TA Digital
TA Digital is the only global boutique agency that delivers the "best of both worlds" to clients seeking to achieve organizational success through digital transformation. Unlike smaller, regional agencies that lack the ability to scale or large organizations that succumb to a quantity-over-quality approach, we offer resource diversity while also providing meticulous attention to the details that enable strategic success.
Over the past 20 years, TA Digital has positioned clients to achieve digital maturity by focusing on data, customer-centricity, and exponential return on investment; by melding exceptional user experience and data-driven methodologies with artificial intelligence and machine learning, we enable digital transformations that intelligently build upon the strategies we set into motion. We are known as a global leader that assists marketing and technology executives in understanding the digital ecosystem while identifying cultural and operational gaps within their business – ultimately ushering organizations toward a more mature model and profitable digital landscape.
Recognized in 2013, 2014, 2015, 2019, 2020 and 2021 Inc. 5000 list as one of the fastest growing companies in the United States, TA Digital is pleased also to share high-level strategic partnerships with world class digital experience platform companies like Adobe, SAP, Acquia, commercetools, Sitecore, and Elastic Path.