One of the biggest challenges in any distributed packaged solution is the ability to interact with other applications. Several factors like the technology stack, file formats, protocols, firewalls, clouds, applications, etc., play a significant role in designing and delivering the project.
SAP Cloud Platform is a new framework, a successor of Datahub, which makes cloud integration reliable, intelligent, and straightforward. It provides out-of-the-box connectivity across cloud and on-premise solutions. Let's dig deeper and understand how SCPI (SAP Cloud Platform Integration) connection capabilities can make enterprises connect intelligently.
What is SAP Cloud Platform Integration?
SAP Cloud Platform Integration (SCPI) is the strategic integration service within SAP Cloud Platform, which facilitates the orchestration, routing, processing, and transformation of messages between systems in cloud-to-cloud or hybrid scenarios.
Boasting a wide range of adapters and a vast library of pre-packaged integration content, SCPI enables customers to design and execute processes and data integrations in a more extensible, scalable, stable, and reliable fashion.
SAP Cloud Platform Integration Suite help enterprises accelerate innovation at scale in connecting processes, data, people, and devices for the intelligent enterprise.
SAP Cloud Platform Integration supports SAP solution in all areas of integration
The SAP Cloud Platform Integration supports SAP solution across all areas of integration. Its primary goals include:
Providing an agile integration framework.
Supporting ever-changing business operations.
Harmonizing integration between on-premise and cloud applications, data, business-to-business networks, mobile apps, and the Internet of Things.
Overcoming the governance, compliance, security and technical debt challenges of ad hoc integration approaches.
The solution itself is straight forward and simple
What makes the SAP cloud platform straightforward and simple? Below are the key factors:
API-first integration approach
Synergic application, data, process, and user-experience integration across cloud and on-premise landscapes
Pre-packaged integration flows
Third-party solution integration
Published APIs ready for sandbox testing and consumption
Intuitive web tooling and AI-driven assistance
Integration solution advisory methodology
Enterprise-class governance
Infrastructure security and scalability
Key Features & Benefits of SAP Cloud Platform Integration
The key benefits of SAP Cloud Platform Integration are:
Out-of-the-box connectivity support (IDoc, SFTP, SOAP/HTTPS, SuccessFactors, OData, HTTPS)
Security features such as content encryption and certificate-based communication
Preconfigured integration patterns, providing many options for the configuration of data flow between participant systems.
Connectivity adapters (endpoint types) that allow participant systems to connect through both proprietary and open protocols (IDoc, OData, JMS, HTTPS, EDI, Ariba, AS2/4, and many more)
Diverse integration scenarios - Link processes and data using both application-to-application and business-to-business integration scenarios.  
Multiple endpoints - Integrate various SAP and third-party applications and data sources based either on-premise or in the cloud.
Pre-packaged content - Use pre-packaged integration content to jump-start integration projects and get productive quickly.
Customize integration - Extend our preconfigured integration scenarios to include your custom requirements.
Increase business agility with connected processes, applications, and data that drive a real-time enterprise
Extend business processes across hybrid environments for greater efficiency
Expand competitive advantage with deeper data-driven insights, irrespective of the data location
Integration Architecture Including Design Time, Runtime, and Operations
SCPI Integration Architecture [source]
Bright, Crisp, Out-of-the-box Inbound & Outbound Integrations
Inbound integration indicates bringing data into SAP Commerce Cloud or reproducing data from other systems into SAP Commerce Cloud.
Inbound Communication from SCPI [source]
Outbound Integration
The Outbound integration exports the data from SAP Commerce Cloud. For example, dispatching the data out of SAP Commerce Cloud or reproducing it in another system.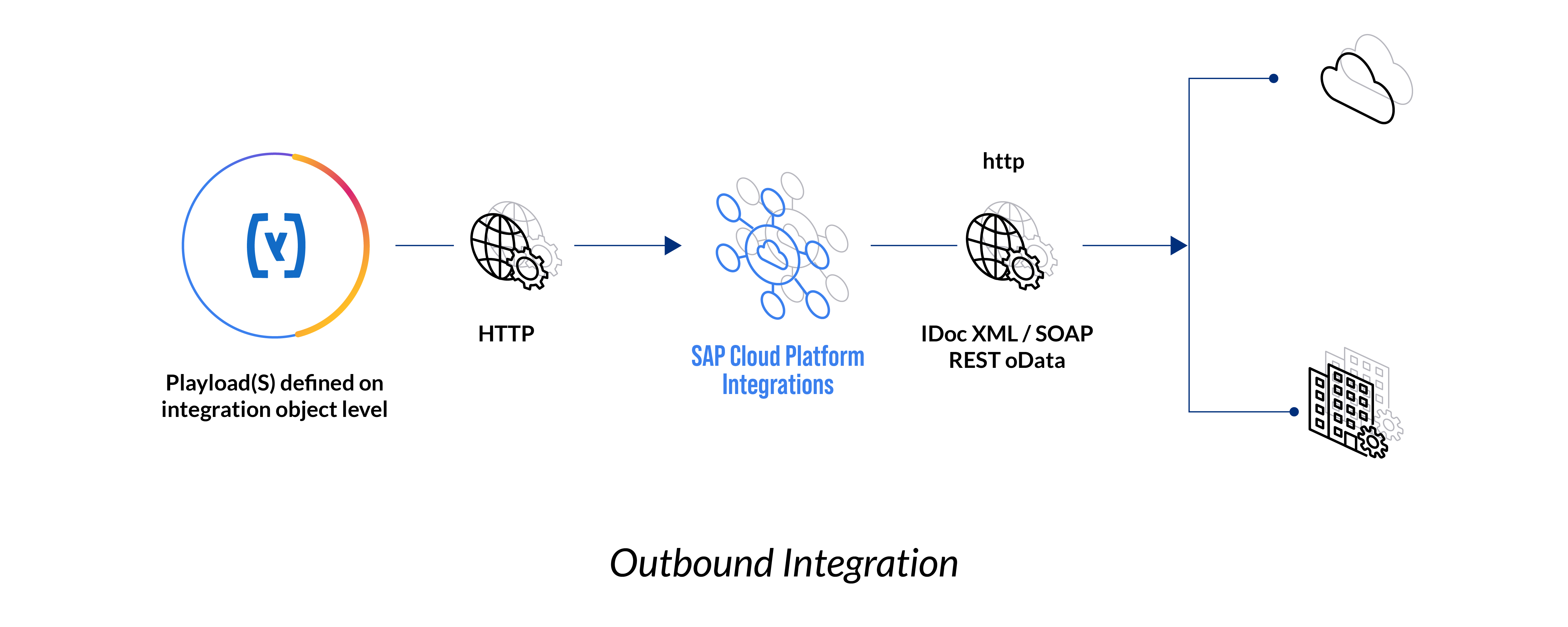 Outbound Communication from SAP Commerce Cloud Integration [source]
Conclusion
As the digital era evolves into the intelligent era, businesses are facing a host of new challenges. You need to be able to innovate efficiently and synergistically with your core business processes to impact business outcomes, act instantaneously, and capitalize on opportunities based on sound insights from up-to-date information. You must also be in a position to increase productivity by intelligently automating manual tasks, Using SCPI, the implementations are a lot easier to transform intelligently and innovate with agility.
About the Author
Sateesh Kumar D is the Technical Architect at TA Digital with expertise in SAP C/4HANA and Qualtrics. Sateesh has 1 3 years of core experience in designing, architecting, solutioning, and developing complex SAP applications end-to-end.
About TA Digital
TA Digital is the only global boutique agency that delivers the "best of both worlds" to clients seeking to achieve organizational success through digital transformation. Unlike smaller, regional agencies that lack the ability to scale or large organizations that succumb to a quantity-over-quality approach, we offer resource diversity while also providing meticulous attention to the details that enable strategic success.
Over the past 20 years, TA Digital has positioned clients to achieve digital maturity by focusing on data, customer-centricity, and exponential return on investment; by melding exceptional user experience and data-driven methodologies with artificial intelligence and machine learning, we enable digital transformations that intelligently build upon the strategies we set into motion. We are known as a global leader that assists marketing and technology executives in understanding the digital ecosystem while identifying cultural and operational gaps within their business – ultimately ushering organizations toward a more mature model and profitable digital landscape.
Recognized in 2013, 2014, 2015, 2019, 2020 and 2021 Inc. 5000 list as one of the fastest growing companies in the United States, TA Digital is pleased also to share high-level strategic partnerships with world class digital experience platform companies like Adobe, SAP, Acquia, commercetools, Sitecore, and Elastic Path.
According to a recent research, 83% of US consumers have made a purchase on Amazon in the last six months. More shoppers than ever before are choosing ecommerce. Retail has gone online, and ecommerce has forever changed the buying behavior of customers across the globe.
Joseph Brannon 24 min read