Businesses across sectors are facing tough times. However, it is physical stores―the brick-and-mortar establishments that are taking the worst hit. A large number of offline businesses are pivoting to online and with good reason.
COVID-19 has made a huge impact on the global business climate. Tough measures have been implemented and forced isolation has made it difficult for brick and mortar stores to function.
While a large number of businesses are moving online, some are still grappling to find answers. How will moving online be helpful? What would be the long-term benefits? Where to get started?
According to research, 45% of small and medium businesses don't have a website, over 70% of businesses are transitioning to ecommerce, and 71% of businesses are trying to catch up with the rising demands of customers. On the bright side, 41% of businesses are making the most out of the pandemic by maintaining and increasing their presence online across all channels.
Why omnichannel is important
The fear of getting infected has made people hesitant to step out, and a large number of customers have moved to online shopping. This is a good opportunity for offline retailers to invest in growing their online presence and orchestrated an omnichannel experience. Businesses that take advantage will increase customer trust and successfully bridge the gap between offline and online experiences. A planned omnichannel strategy will be rewarded with customer satisfaction and long-term loyalty. According to a report, 63% of customers use their mobile phones for research and purchase, 56% of customers want a shared cart across all channels, and 79% of customers want personalized service from brands. Businesses no longer depend on just one channel, as they have diverse channels to reduce risks.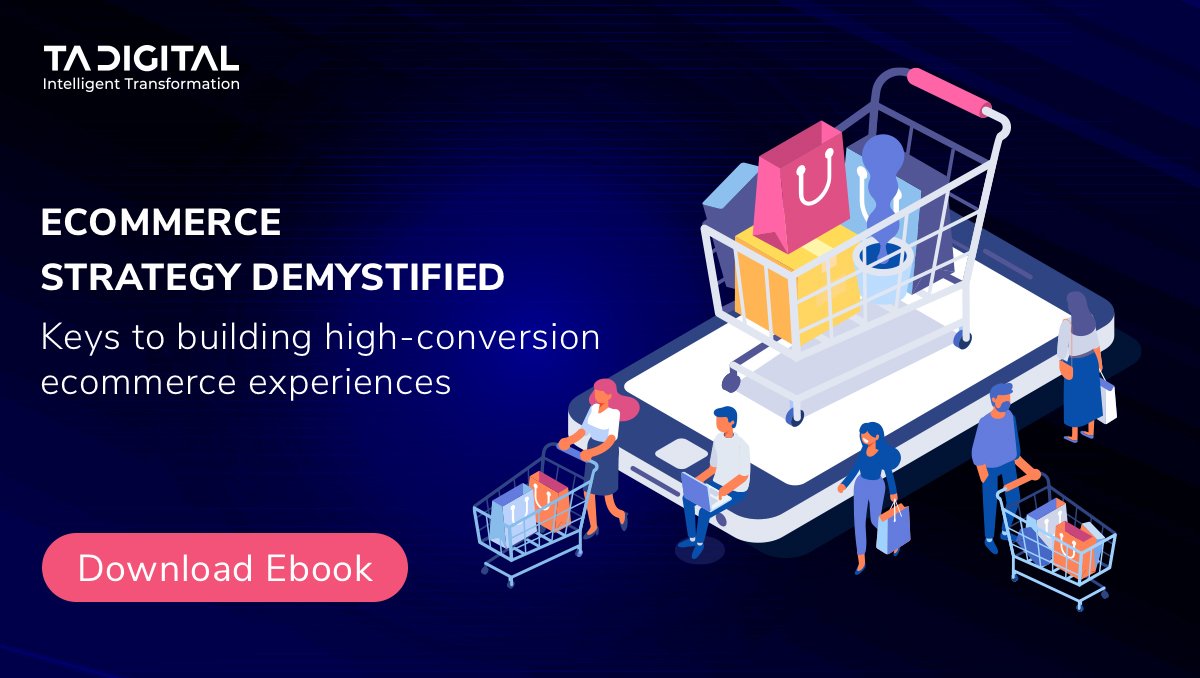 Small retail
Small retail stores or specialty retailers without ecommerce in the food and grocery industry have taken a hit during the pandemic. They are struggling with resources ─ workforce, physical, and digital. They either plan to take their business online or use third-party mediocre service providers. Nobody knows when exactly the pandemic will come to an end. Till then, it is very important for these businesses to take their online business seriously and focus on making it successful by embracing the latest technologies. Look at it positively; the transformation from offline to online can be highly beneficial even when the pandemic ends, as customer expectations will rise post-COVID-19.
B2B manufacturing
B2B manufacturing companies mostly depend on tradeshows, exhibitions, and third-party marketplaces to build their network and customer relations. B2B businesses without an online presence are going through tough times due to the ongoing pandemic. Such businesses need to adopt digital marketing to open new channels over social media and web platforms and embrace the transformation. This will not only reach the existing but also new customers. Third-party companies like Amazon plan to hire more employees worldwide to fulfill the rising demands of customers. B2B businesses relying on such marketplaces have an added benefit of increasing their presence in the online market. Most B2B consumers expect their interaction to be convenient and easy, and this is one of the best ways to do that.
Read our new blog on 10 Digital Commerce Strategies to Prepare for the Post-Pandemic World.  ||  Learn how our certified experts will guide in selecting the best Digital Commerce platform for your business.
Distributors
COVID-19 has rapidly changed the industry, and it's about time distributors emulate and embrace digital technology, tactics, and ecommerce solutions. Though offline distributors are known to provide good customer service, the digital era prefers a great customer experience and service online. Distributors need to develop an ecommerce platform to reach a wider audience, increase usability, transparency, and attractiveness.
Core elements for transitioning from offline to online
Data management: In case your customer data is stored in various locations, first you need to evaluate your data. Find out how much data is authentic, useful, and accurate. Use this data to enhance the customer experience and keep them engaged.
Customer profiles, CRM: Gather data in your CRM system, as it can help in taking future marketing actions like targeted offers. Such rich data can also be useful in automation and AI-powered actions. Customer profiles can also be created with this data gathered, as it will help in understanding the customers and analyze their behaviors, trends, and patterns. Create segments for different customers and create offers that are relevant to them.
Technology integration: Transitioning from offline to online can vary from simple to complex as there are multiple touchpoints in the omnichannel operation. It is very important to understand the systems and solutions involved. You must ensure that the connections between applications are robust, and the data is safe and secure.
Touchless commerce: This is a new way to serve customers by eliminating or making all human touchpoints throughout the customer journey virtual. For instance, smartphones can be used to search, evaluate, select products, and make payments. Robotics and automation are used for the process. Very little human intervention is needed, especially during the automated drop-off or pick-ups at selected locations. This prevents any human contact at the point of receipt.
Payment integration: Offline businesses accept over the counter payments from their customers. After transitioning from offline to online, you must consider accepting payments through a merchant account (to accept credit card payments online) or integrate a payment gateway to handle the gateway and process. Payment gateways also provide other alternative methods to make payments and provide customer support, and fraud protection.
Security: Cyber threats, financial attacks, and privacy threats are key concerns for businesses online. While transitioning from offline to online, you must ensure that the data gathered, and the payment transactions are secure. A lack of security can lead to customers not trusting your brand and products/services.
Download the new ebook of 2020 eCommerce guide: Boosting conversions and maximizing sales.  ||  Sign up today for the latest news about your Digital Transformation.
Ways to go offline to online
Third-party commerce platforms: To start a business online, you need to create a website, select products, products to be shipped, and manage payment options. With an ecommerce platform ready, you can integrate reliable and feature-rich third-party ecommerce platforms to boost your revenue. For instance, we have Amazon, BigCommerce, PayPal, Bitcoin, and more to help manage your business.
Own commerce portal: To take your offline business online you need to set up servers, buy a domain, select an ecommerce platform, create a website, configure payment and shipping methods, find out tax compliance, license, website security software, plan marketing, and SEO strategies, integrate omnichannel platforms, software, and strategies, and start selling your products or services online.
Challenges in making the move
Some offline businesses come across various challenges while venturing into ecommerce. They find themselves heavily bombarded with customer complaints, operational inefficiency, and with poor profit performance, management, and strategies. Such a chaotic period can be very distressful for businesses and consumers. It can jeopardize the reputation of the business, and it can be a big waste of time and money if the right technology, strategies, and changes are not implemented properly.
Difficulties faced in third party commerce
Most of the ecommerce websites and businesses use third-party integration software to increase revenue and improve customer experience, while saving a lot of resources and time. At times ecommerce businesses face certain challenges while integrating third-party platforms like the product interface, inaccurate or inapplicability of the third-party application, integration problem, hidden errors and product errors in the third-party application, jacking up prices for the features and limited access and access issues between your product and third-party applications.
Advantages of owning a commerce portal
If you choose a large marketplace like Etsy, Amazon, eBay, and others, you may find multiple brands that are similar to yours displayed and featured there. Even if your products are unique, you may get lost in the sea of competitors.
Having your own/individual commerce portal will help you gain a competitive edge over the others, enhance your business image, improve the effectiveness of advertising, save money, increase leads and sales, improve productivity, easy to use and update, improve interactions with customers, improve customer service and build the trust of customers. Ecommerce platforms like BigCommerce, Magento, and others can help to start an online business and help run it smoothly.
The marketplaces have high volume traffic, but having your own, individual ecommerce platform can also give you access to a global audience. Having your website can make customers focus on your brand exclusively. You have the liberty to exercise your own brand strategies, customize, design without depending much on others.
Having your own ecommerce site can also cut out the middleman. At a marketplace website, you will have to pay multiple fees for listing, seller rights, warehousing, transactional costs, and final sale. It makes it difficult to understand your real profits and margins. With your own ecommerce site, you will be able to sell your products directly on your website by using social media. No extra fees will be required. The rates for various features will also be transparent for you right at the start so that you can go ahead select which plans you want to spend on, and there will be no hidden fees.
How BigCommerce can help in seamless transition
BigCommerce specializes in speed to market implementations across the entire commerce layer. They rapidly transform businesses struggling to start their business online, transform from offline to online (vice versa), enhance existing online businesses with their core solutions.
Conclusion: What can you do next?
The lockdown could last for months, and it could mean offline businesses will be at a loss if they do not embrace online platforms. Ecommerce provides online businesses a long-term boost, as the consumers' purchase behavior will change, as they refrain from using brick and mortar stores during the current state of affairs throughout the world. Offline to online transition can be highly beneficial to businesses of all sizes, as it will be feasible to operate from any location, low cost of operating, no time limits, easily scalable, reach a wider audience, and track the performance seamlessly. So, don't hesitate, take a giant leap of faith into the future of marketing by embracing the latest technologies and strategies of tomorrow.
Want more insights like this?
We're on a mission to provide businesses like your's customer experience, digital marketing, and commerce tips, tricks, and industry-leading knowledge to help you build a great brand. Don't miss a post. Sign up for our weekly newsletter.
About the Co-Author
Beatriz Estay is a Small Business Content Marketing Specialist at BigCommerce and the fashion and lifestyle influencer behind The Letter Bea, an Austin, Texas based blog. She holds a B.A. in Communication and Sociology/Anthropology from Lake Forest College and specializes in ecommerce, marketing and merchandising strategies, influencer and branding work, and social media. When she's not curating content, Beatriz loves to travel the world, share her journey with Type 1 Diabetes, and find Austin's most Instagram friendly spots.
Beatriz Estay
BigCommerce, Content Marketing Specialist
About TA Digital
TA Digital is the only global boutique agency that delivers the "best of both worlds" to clients seeking to achieve organizational success through digital transformation. Unlike smaller, regional agencies that lack the ability to scale or large organizations that succumb to a quantity-over-quality approach, we offer resource diversity while also providing meticulous attention to the details that enable strategic success.
Over the past 20 years, TA Digital has positioned clients to achieve digital maturity by focusing on data, customer-centricity, and exponential return on investment; by melding exceptional user experience and data-driven methodologies with artificial intelligence and machine learning, we enable digital transformations that intelligently build upon the strategies we set into motion. We are known as a global leader that assists marketing and technology executives in understanding the digital ecosystem while identifying cultural and operational gaps within their business – ultimately ushering organizations toward a more mature model and profitable digital landscape.
Recognized in 2013, 2014, 2015, 2019, 2020 and 2021 Inc. 5000 list as one of the fastest growing companies in the United States, TA Digital is pleased also to share high-level strategic partnerships with world class digital experience platform companies like Adobe, SAP, Acquia, commercetools, Sitecore, and Elastic Path.